Central California Wineries
--Wines & Vines Magazine/June 2005
Story & Photos by Bill Stephens
Some people told Jim and Debbie Van Haun they were making a mistake picking East Fresno County. But in 1999, the Van Hauns left Southern California and settled in Central California, where they ultimately opened a winery bed & breakfast making premium wine.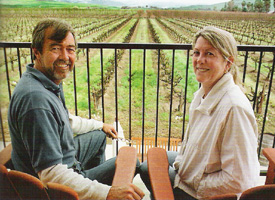 Today, their bed & breakfast fills up quickly, their tasting room is a popular destination, and Jim's wines are winning awards.

Van Haun is one of a feisty band of small, boutique winemakers who've recently started making premium wine in Central California. As much as anything, they battle the perception that Central California is the sun-baked province of big wineries who mass produce inexpensive wine.

These Central California boutique winemakers are launching wine tasting rooms, wine trails, and associations. And they're winning awards. "Central California is the next hot spot of winemaking," says Cal State Fresno enology professor Ken Fugelsang. "It's the new frontier. We're seeing vineyards produced for maximum flavor rather than for maximum yield. And we're seeing small premium wineries pioneering what we hope will be a flourishing winemaking region."

Says Nat DiBuduo of Allied Grape Growers: "The quantity of wine produced by small boutiques wineries isn't large. But they've started tasting rooms and winery trails--which we've never had before in Central California. These new boutique wineries are adding interest, romance, and respect."

Some of these boutique winemakers are newcomers. But many are people from local farming families. These folks are helping bring a new approach to Central California--progressive, personalized growing and winemaking and direct sales to customers.

Boutique destination wineries are popping up for several reasons. When Central California wine grape prices were depressed in recent years, some growers decided to make their own commercial wine.

Also, land costs are relatively low. Says Patterson, California boutique winery manager Hunter Vogel: "If you want to start a winery coming from the outside, it costs less. It's the new frontier here, the Wild Wild West."

Also, many people from the Bay Area and Southern California are moving to the Central Valley, bringing with them a thirst for wine tasting experiences small local wineries provide, and creating a market for local premium wine.

There's also a realization that Central California grapes can make excellent wine if appropriate techniques are used, including crop limitation, hand harvesting, small batch production, and oak barrel aging.

And techniques have improved for growing grapes in warm weather climates, where many of the world's grapes are produced. "Warm weather viticulture and enology take extra work," says Fugelsang. "But today we have the means to produce a better product-- using irrigation and canopy management, and picking target harvest days for optimal maturity based on the flavor profile of the grapes."

The emergence of Cal State Fresno in recent years as a center for viticulture and enology, with its own working winery, has helped growers and winemakers improve quality.
The small boutique wineries in Central California do face challenges, including becoming known, competing for shelf space, and finding distributors.

Then there's Central California's image. "The Central Valley has a horrible and undeserved connotation," says Madera winemaker Ray Krause. "It's never been the chi chi place to grow wine."

The boutique wineries are using various strategies to succeed. In addition to pouring at charity events, they rely heavily on direct sales to customers--through wine clubs, internet sales, and particularly through tasting rooms. Some sell to local wine shops, supermarkets, and restaurants.

Many Central California boutiques focus on making a few specialized wines, including alternative varietals, in order to create a niche.

They are forming new associations like the Madera Vintners Association and the Central California Winegrowers to promote themselves. And they are encouraging others to start wineries to create more local destinations.
The hottest boutique winery scene is in Madera, just north of Fresno. In 2001 the Madera Vintners Association (MVA) was created to help promote the burgeoning small local wineries.

The Association persuaded local government officials to let them put up wine trail signs. The wineries are mostly open on week-ends and by appointment. MVA stages three Madera Wine Trail events per year. The Wine Trail events are drawing more visitors each time, the most recent attracting 2000.

Visitors purchase a wine glass, which entitles them to winery hop. The winemakers provide food and entertainment, and chat with visitors, who arrive via limos, buses, cars, and motorcycles. There's now talk of a shuttle service.

"The week-end Wine Trail events are attracting visitors throughout the state ," says MVA president Ray Krause. "We're even getting Los Angeles people."

Krause, who owns Westbrook Wine Farm, says the Wine Trail designation has helped boost awareness and sales for the local wineries.

Krause, active in the the wine business for years, in 1994 bought property in the scenic eastern Madera County foothills, with an eye to making premium wine. Selling wine directly to visitors since 2000, he now makes premium wines, ranging from $15 to $55.

Krause says three more small wineries are starting up nearby. "I'd like to see 10 more small, passionate family winemakers in Madera, all specializing in something unique."

John Lasgoity, who comes from a local farming family, converted his home winemaking hobby into a winery business (Chateau Lasgoity Winery) four years ago with sister Michele. In addition to selling grapes to large wineries, he now makes 3200 cases per year of his own premium wine, which sells from $7 to $9. Lasgoity, who has been winning awards for his wine, sells to retail outlets, to tasting room visitors, and to regular customers.

"It's rewarding to make wine, and meet your customers," says Lasgoity who tends bar week-ends at his tasting room. The wine trail events bring him so much business he wishes they were once a month.

Madera's two longtime premium dessert wine producers, Ficklin Vineyards and Quady Winery, have tasting rooms and are expanding wine offerings.

Peter Ficklin: "Our core is still port dessert wine. But since MVA we are changing our stance a bit. Starting a tasting room has encouraged us to also make a rose, dry red wines, and a sherry."

At nearby Quady Winery, Mike Blaylock says that the winery's tasting room and gift shop get many visitors, especially during Wine Trail events. "The Madera wine trail was something that was lacking in the area because the big wineries aren't open to the public. People are thrilled to have quality boutique local wineries where they can come with friends and show off the area." Quady is introducing aperitif wines.
South of Madera, fast-growing Fresno has its own fledgling boutique winery scene. West of downtown Fresno sits Engelmann Cellars and Nonini Winery. Three others are poised to start in this area.

Bret Engelman started Engelmann Cellars five years ago. Growing up on the local family farm, he studied winemaking at Cal State Fresno. Unlike others, he stayed in Fresno, working at a large local winery before launching his own premium winery.

When Engelman came out with his first two wines, the first wine shop he went into said nobody would pay $12 and $14 for Fresno wine.

"I told them they were wrong," Engelman says. "And that I'd be back in a few months with some new wines."

Within a few months, Engelman says, people were asking for his wines, and the wine shop never complained about the price again.

Today, Engelman makes 2,000 cases per year of premium wine, selling from $12 to $18. He has won 49 medals. While Engelman sells mostly at his tasting room through his wine club, he recently secured a distributor for local merchant sales. He's created a small park adjacent to his winery for weddings and special events.

"I'm getting a lot of wine tasting visitors from Fresno. People still don't realize there are small wineries in Fresno making premium wine. When they do find us, they're not as intimidated because we're local."

Engelman is trying to organize a Twin Rivers Vinters Association for the growing number of Fresno County wineries.

Visitors can soak up history at nearby 1930s Nonini Winery while tasting various wines. James Jordan notes that while it's a challenge getting local wine lovers to realize they don't have to drive to the coast, he sees a thriving Fresno wine scene emerging.

On the east side of Fresno on the road to Sequoia National Park, sits Sequoia View Winery Bed & Breakfast, started six years ago by the Jim and Debbie Van Haun. Jim Van Haun was a biologist in Orange County. Wine lovers, the Van Hauns wanted to start a bed and breakfast in wine country. "Starting in the mid-1990s, we began looking at coastal wine areas," says Jim. "We found them expensive and saturated, and realized we'd be a small fish in a big pond. Then we discovered this area."

"We were originally growers here, but it made economic sense to also make wine," says Jim, who learned winemaking from Cal State Fresno grad students. He now makes 1,000 cases of $11-$17 premium wine per year, and is expanding. The winery bed & breakfast, set in a vineyard, attracts national park visitors. Locals visit the special events and tasting room.

Cal State Fresno, whose viticulture and enology department has a working commercial winery making more than 20,000 cases of $5-$10 premium wines per year. Not only is Cal State Fresno wine winning awards, but the university is training viticulturists and winemakers, some of whom want to stay in Central California. The school also conducts outreach seminars, currently partnering with Central California Winegrowers on a demonstration project at six Central California vineyards to show growers how various strategies impact fruit quality.

"We 're proving, and local small wineries are proving, that quality wine can be grown in Central California," says Bob Wample, who heads Cal State Fresno's viticulture & enology department. "The fruit is good, and we can make it even better."
To the north, in the greater Modesto/ Stanislaus County area, a number of small family wineries are cropping up. As yet, there is no local association or wine trail. But things may move in that direction.

Mid-sized McManis Family Vineyards is in Ripon, north of Modesto. After growing grapes for years, Ron McManis started his own winery in 1998. Today, in addition to bulk wine, he makes premium wines for under $10. McManis wine is sold in restaurants and wine shops through distributors.

Silkwood Wines, outside Modesto, is attracting attention with its premium wines. Owner John Monnich started the winery in 1978, eventually relocating in 2000 to Central California in part because of more reasonable land costs. He makes 10,600 cases per year, including cabernet for $14 and syrah for $24, using 36 distributors in 31 states. A tasting room and wine club are planned.

Other local wineries are also proving small wineries can make premium wine in Central California. Wend-Tyler Winery, in Modesto, has been making premium wines since 2001, including an $18 Chardonnay that can be sampled by appointment.

Thirty-year old Hunter Vogel of Kit Fox Winery in Patterson plans to grow from the 15,000 cases of premium wine to 60,000 cases in two years, and to start a tasting room and event center. "It's good for the small local wineries to cooperate and focus on quality," he says.

Diablo Grande Vineyards and Isom Ranch Winery, which is part of a golf resort/ residential community near Patterson, has taken the unique step of opening a tasting room in downtown San Francisco.
The southern end of Central California in Kern County, has yet to embrace the boutique destination winery trend. But it does have three-year-old Harper Hill Oildale Winery, whose two owners enjoy jabbing wine business pretensions and giving people a laugh with their RedNeck Red and White Trash White labels. The wines are hot $12 novelty gift items, though made at another winery.

At pouring events, Terry Hill and partner Clete Harper wear bib overalls and red bow ties ("Okie tuxes") and play with the Oildale Winery bluegrass band.
The future appears bright for boutique wineries in Central California. Ken Fugelsang foresees many more destination boutique wineries up and down Central California. "Agri-tourism is growing very popular, and many will be winery B&Bs."

He adds: " Central California can take the lead making quality wine at a reasonable price. Our market is Central California, and then others will discover it and come."

Says Peter Ficklin: "Central California will always have grapes grown in quantity. But the next 20 years we'll see a transition to premium wines and to becoming a destination. There's an awakening in Central California."
* * *